About
Founded in 1995, C.A. Young Architecture offers a full range of architectural services, specializing in design expertise, innovative problem solving, and personalized client interaction. Based in Morristown, NJ, with reaches throughout the state and into the Jersey Shore area, the firm boasts broad experience in both residential and commercial building types, delivering distinctive design solutions that span from traditionally inspired to cutting-edge contemporary.
By approaching each new project with fresh eyes and an open mind, C.A. Young Architecture turns challenges into opportunities to create simple, elegant solutions for an array of projects, ranging from smaller residential projects to mid-scale commercial work. The firm's residential expertise includes unique custom renovations, additions, new construction, and small multi-family developments, while its commercial practice encompasses a variety of project types including healthcare and community facilities, fitness and wellness projects, commercial interiors, and downtown revitalization projects.
C.A. Young Architecture's quality-driven process emphasizes flexibility, originality, and attention to detail in order to guide each project, no matter how large or small, systematically through any number of possible site, budget, or program issues. Drawing energy from its diversified practice, the firm's select core of experienced and knowledgeable professionals uses a hands-on, team approach to create innovative solutions to each project's particular parameters. Regardless of project type or size, C.A. Young Architecture's goal is to deliver enduring, sustainable, sensitive architecture that joins form and function to excite the imagination.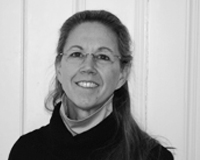 Carolyn A. Young
CA Young Architecture's founder and owner Carolyn A. Young has been practicing architecture in the northern and coastal NJ area since 1985. With her extensive knowledge of the region's rich historic context and familiarity with the variety of challenges typical to small town urbanism, Carolyn brings a creative, informed design outlook to her practice. Educated at Cornell University School of Architecture, Carolyn relies on her rigorous Cornell design training and her unique focus on problem solving to forge sensitive and aesthetically invigorating architectural solutions to a wide variety of projects.